FIVE TAKHATS
The five supreme thrones of sikhism
The five Takhats are the supreme seats, or thrones of temporal power and religious authority in Sikhism. The leadership of the Takhats are responsible for Gurmat decisions, proclamations and corporal policy governing both secular and spiritual issues of significant concern to Sikh society.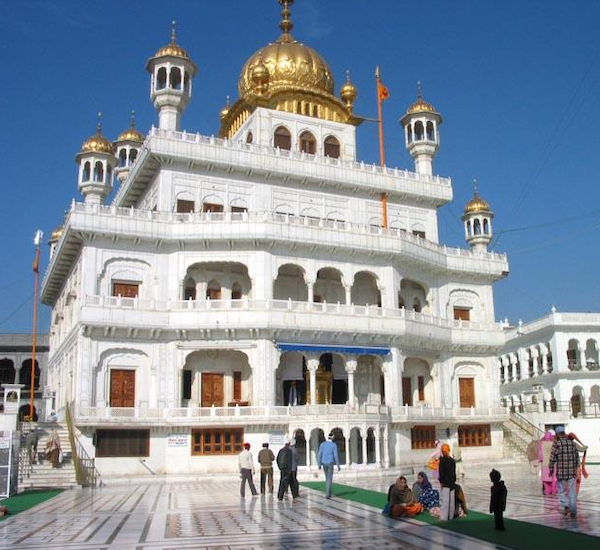 SRI AKAL TAHAT SAHIB
The foremost supreme throne and temporal seat of Sikh religious authority is Sri Akal Takhat Sahib located in Amritsar of Punjab, India. The Akal Takhat, sometimes referred to as Akal Banga, is situated inside the Golden Temple complex opposite Darbar Harmandir Sahib. Sixth Guru Hargobind Sahib JI originally established the Akal Takhat in 1663.as a symbol of political sovereignty and where spiritual and temporal concerns of the Sikh people could be addressed. In the 18th century, Ahmed Shah Abdali and Massa Rangar led a series of attacks on the Akal Takht and Harmandir Sahib. Hari Singh Nalwa, a general of Maharaja Ranjit Singh, decorated the Akhal Takht with gold. The Sikh holy scripture, Guru Granth Sahib, is housed in the Akal Takhat after hours while in Sukhasan. Ancient sacred manuscripts are preserved on the premises along with antique shaster weaponry used by Sikh gurus and warriors.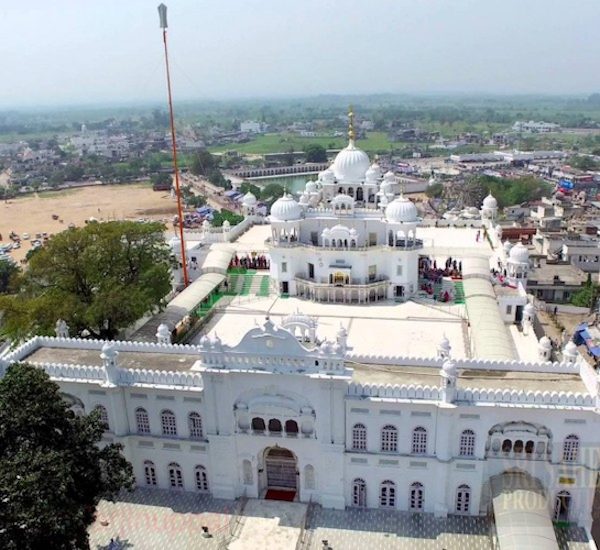 SRI KESGARH SAHIB
The location of Takhat Sri Kes Ghar Sahib of Anand Pur in District Roop Nagar of Punjab, India, on the bank of River Satluj, originally a tract of land in Makhowal purchased by Ninth Guru Teg Bahadar. Called for a time Chak Nanki, it later became known as Anandpur Sahib, and birthplace of the Khalsa nation. Immediately following the martyrdom and decapitation of Guru Teg Bahadaur by order of the Mughal Emperor Aurangzeb, Bhai Jaita obtained the guru's severed head and delivered it to his son Tenth Guru Gobind Rai, in Chak Nanki proclaiming, "This ground shall be the founding of the Panth." On Vaisakh, or April 14, 1699 A.D. the tenth guru called for volunteers willing to sacrifice their heads. The five brave men who stepped forward to answer the call became lovingly known as the Panj Payare, or five beloved administrators Of Amrrit, the immortalizing baptismal nectar given to Khalsa initiates. The Tenth Guru spent 25 years in his headquarters at Anandpur Sahib holding Hola Mohalla festivals and agitating against the oppressive, tyrannical, and murderous Mughal empire, until fleeing the siege of 1705.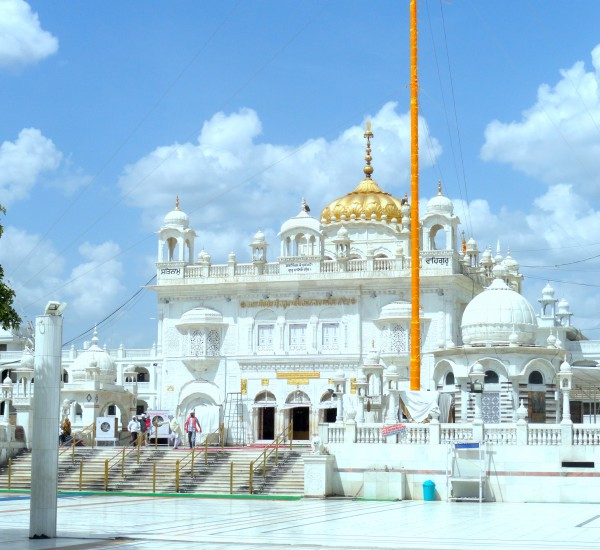 SRI HAZUR SAHIB
Takhat Sri Sach Khand Hazoor (Hazur) Sahib also known Abchal Nagar is located on the bank of River Godavari at Nanded in Maharashtra, India and commemorates Angitha Sahib, or the cremation place of Tenth Guru Gobind Singh. It is at this spot that the guru held court, and his Sikhs referred to it as his Takhat or throne. In October of 1708, when a wound reopened and it became apparent that he would succumb to an assassination attempt, Guru Gobind Singh designated the holy scripture Sri Guru Granth Sahib to be his successor. Sachkhand (literally "region of Truth") had been used by Guru Nanak Dev to mean the abode of God. The structure constructed between 1832-37 by Maharaja Ranjit Singh is home to both Guru Granth Sahib, as well Dasam Granth, the written works ascribed to Guru Gobind Singh, and various relics pertaining to the tenth guru. Maharaja Ranjit Singh (sending money, artisans and labor from the Punjab Kingdom, Under Sardar Chanda Singh. Present Takhat was constructed, from 1832-1837. Around the same time the Nizam of Hyderabad raised a contingent of Northern Sikhs as part of his army. Most of these men settled permanently in Hyderabad State.For a time Takhat Sri Sach Khand Hazoor came into the care of the Udasi Sect of Hyderabad, but later reverted to the Sikhs, and a resolution passed in 1956 gave legal rights to the Gurdwara management committee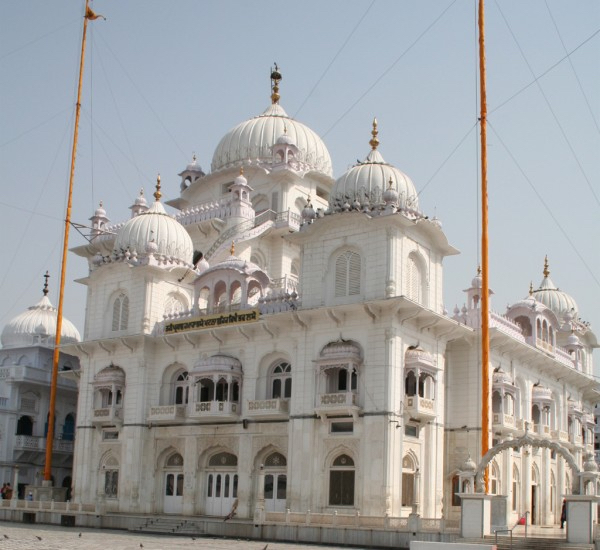 SRI PATNA sahib
Takhat Sri Harmandir Sahib of Patna, Bihar, India located on the bank of the River Ganges (Ganga) is the birthplace of Prince Gobind Rai who grew to be Tenth Guru Gobind Singh. Patna is revered as a spot visited by the gurus: First Guru Nanak while on his way to Gaya. The first guru paused to pay respects to Salis Rai Jouri, a devotee who transformed his home into a dharmsala, or spiritual teaching center to promote the message of Guru Nanak. Ninth Guru Teg Bahadar while on a missionary tour, housed his mother, his pregnant wife Gurji and her brother in Patna under the care of a local Raja. Mata Gujri delivered the Guru's son while in Patna. The original dharmsala structure in use by Sangat as Takhat Sri Harmandir Sahib succumbed to fire in the 1800's. Maharaja Ranjit Singh began reconstruction in 1839 but did not live to see its completion. In 1934 an earthquake destroyed parts of the shrine. Construction on present day Takhat Sri Harmandir Sahib begun on November 1954 went on for about three years, until its completion in 1960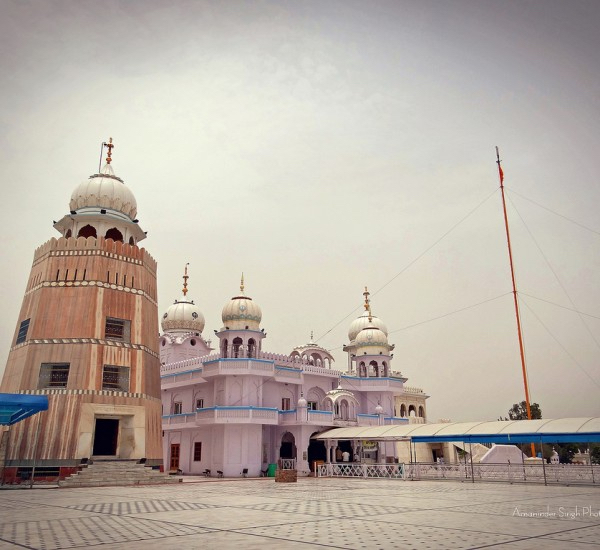 SRI DAMDAMA SAHIB
Takhat Sri Damdama Sahib known also as Guru ki Kashi, located at Talwandi Sabo near Bathinda of Punjab, India commemorates the completion of the sacred scripture of Guru Granth Sahib in 1705, by Tenth Guru Gobind Singh with the help of his scribe Bhai Mani Singh. The guru stayed in Talwandi Sabo at Damdama Sahib following the martyrdom of his mother and the sahibzade, his four sons. His wives Mata Sundari Kaur, and Mata Sahib Kaur, rejoined him for a short period, after their separation when fleeing the siege of Anandpur. Baba Deep Singh became the head scribe of Damdama Sahib and made copies of Sri Guru Granth Sahib for distribution to the other four Takhats. Resolution No: 789 passed by the Shiromani Gurdwara Prabandhak     Committee (SGPC) of Amritsar, July 30, 1966 formally declared Takhat Sri Damdama Sahib to be the official fifth seat of temporal power. The Indian government formally recognized the appointment in April of 1999 during the tricentennial Vaisakhi celebration commemorating the birth of the Khalsa Nation.